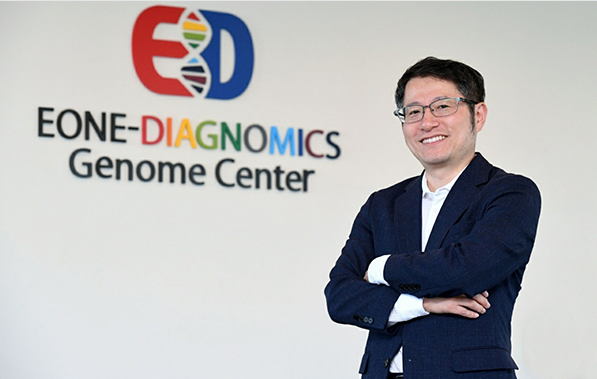 Genome analysis company Eone-Diagnomics Genome Center (EDGC) expects to steal the spotlight at the upcoming 29th International Molecular Med TRI-CON with results on its liquid biopsy technology capable of detecting different cancer cells in the very early pre-symptomatic stage, the company's chief executive Shin Sang-cheol said in a recent interview with Maeil Business Newspaper. 

Songdo, Incheon-based EDGC is conducting clinical trials in Korea to evaluate its liquid biopsy solution for the analysis of circulating tumor DNA (ctDNA) as a method of noninvasively characterizing tumors and tumor genome from a blood sample.

Shin said his company along with Grail now under U.S. Illumina, the global leader in DNA sequencing, is ahead in the global cancer test race. The two will likely draw attention at the international conference to be held in February 2022 in California.

In September 2020, San Diego-based Illumina announced its acquisition of Grail, a startup that spun out from Illumina six years ago, for cash and stock consideration of $8 billion.

EDGC's liquid biopsy technology is part of super-precision medicine to detect abnormal forms of circulating cell-free DNA (cfDNA) that originate from cancer cells (ctDNA), a precursor to developing cancer. If there is any ctDNA, it exists in an extremely small amount among cfDNA in blood. This technology is expected to bring about a major innovation in the field of cancer diagnosis.

EDGC is the only Asian company that participated in an international mega project designed to analyze and standardize genome data of 10 million people in 2016, according to Shin. 
The company is on track to launch its commercial cancer test solution under the brand of OncoCatch in the second half of next year after approval by the Ministry of Food and Drug Safety in March for good manufacturing practice (GMP) of its clinical trials.

Early-stage cancer is difficult to be detected because the amount of ctDNA is too low. To tackle this problem, the company developed a technology that extracts methylation patterns specific to cancer genomes with next-generation sequencing (NGS) and analyzes them with artificial intelligence (AI) algorithms, Shin explained.

With this technology, EDGC can analyze more than tens of thousands of methylation markers and trace amounts of ctDNA with high sensitivity.

If OncoCatch is covered by a national health checkup program, individuals will be able to know whether they have cancer much earlier than now by simply collecting blood, Shin said, adding this service is already offered in some general hospitals in Hong Kong and Ukraine.

The current detection rate for breast cancer, colorectal cancer, and lung cancer through OncoCatch has surpassed 90 percent in sensitivity and specificity, and EDGC is working to raise detection accuracy for gastric cancer to over 90 percent in stage 1, Shin said.