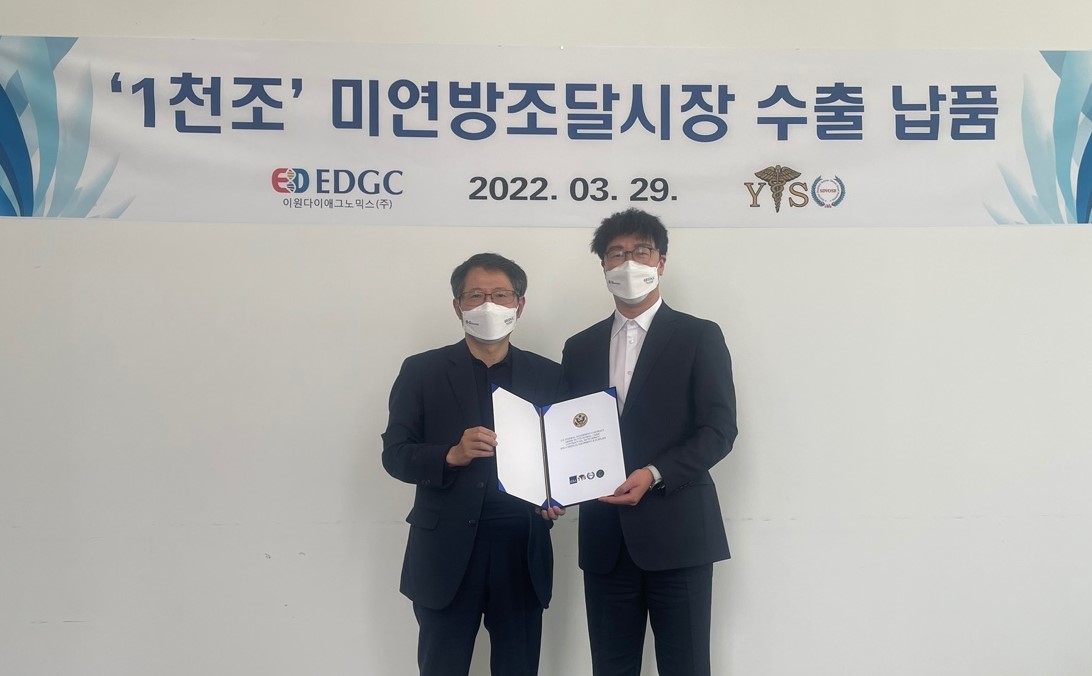 Photo Courtesy of EDGC: From left, EDGC Chief Executive Officer Sang-Cheol Shin and YTS Global Chief Business Officer Yong-Jin Hong
 
March 30, 2022 – Eone Diagnomics Genome Center Co., Ltd. (hereafter referred to as EDGC) begins its first export delivery to the US federal government procurement market worth 1,000 trillion won annually. In particular, it is recorded as Korea's first official contractor to receive an order from The U.S. Department of Veterans Affairs through YTS GLOBAL GROUP. 
EDGC announced on the 29th that it has officially received a PO (purchase order) that can be supplied to The U.S. Department of Veterans Affairs (VA FSS) from YTS GLOBAL GROUP, which opened the US procurement market for the first time in Korea.
The U.S. General Service Administration (GSA) PO means the official entry into the world's largest market that can only be obtained through strict verification requirements and VA FSS purchasing procedures. The company explains that it is used as a contract.
This PO is an official request from the U.S. Department of Veterans Affairs. The GSA is responsible for procurement of goods and services used by U.S. federal government agencies, but the Department of Veterans Affairs has authority for all medical-related contracts.
The item delivered this time is the 65Ⅱ-A Medical Device (TENS), which applies fine electrical stimulation to a pad attached to the human body to tension and relax muscles, and is used for pain relief, rehabilitation, and muscle exercise.
EDGC will supply 1 million dollars' worth of Medical Device to The U.S. Department of Veterans Affairs as an initial volume. The U.S General Service Administration (GSA) is the world's largest buyer of KRW 1,000 trillion annually, and it is characterized by a guarantee of long-term transactions of up to 10 years or more in order to continuously receive high-quality products. Accordingly, EDGC is planning to sell 10 million low-frequency stimulators, or more than $600 million (about KRW 734.4 billion), through stable supply of Medical Device (TENS) for the next 5 to 10 years.
EDGC has been preparing to advance into the US procurement market and medical markets such as US hospitals along with YTS Global Group. As a result, it acquired the supply qualification through SAM (System for Award Management) registration, which is essential for entering the US federal procurement market, and successfully registration and supply to VA FSS continuously.
An EDGC official said, "We are preparing to produce additional items such as 5 items of qPCR registered with the FDA, K-disinfection products, and antibacterial products. I am looking forward to it," he said.